Bremen, April 18, 2017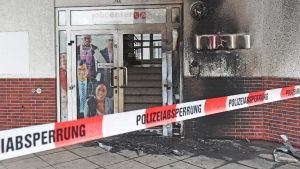 For those who have to attend Jobcenter regularly, the question is not why we have attacked it, but rather: Why only now? The Spring and the upcoming riots against the G20 in Hamburg are what motivated us.
We would like to give a brief explanation for those who are unfamiliar with the Jobcenter experience:
The Jobcenter is a place of humiliation, isolation and shame. Here the poverty and misery of this society are managed. It goes without saying that everyone who has to go there is blamed for their own misery.
Qualification and mediation in the labor market are the magic words. By whatever means is right. The reserve range of the ALG II recipients is kept just above and often below the subsistence level. More and more people are being pushed into the low-wage sector job market. They are forced into temporary employment contracts, pressured into self-employment, made into day-laborers. The bottom line is hardly any more money than unemployment. In the queue of the exploited, the office is annoying and pushing wherever it can. Short-term appointments with case managers, absurd mediation offers, compulsion to make employment applications and on and on and on. Infringements are punished with sanctions.
Those who cannot be directly placed in the labor market will be rewarded with meaningless 'education' measures: job interview training here, computer course there. You're not going? Sanction, payment stopped, soup kitchen.
The living circumstances of the persons concerned can be checked at any time by field service employees. All data about the person and their family environment are collected and stored. Relations are questioned or constructed, residences are checked, parents are questioned or made to question their own children. The surveillance measures increase the psychological pressure and cause more and more people to think it is better to avoid the stress and go without social assistance. The result? Debt, stress, homelessness…
At Jobcenter the whole bullshit of humanistic-democratic ideology is completely eliminated. Support here means adaptation and enhancement of usability for the state and location. What counts is your performance in the labor market.
With this fire at the Neustadt Jobcenter, we restricted ourselves to the facade in the entrance area to avoid a big fire in the nearby residential area.
Against the management of poverty and exclusion!
For a life of dignity and self-determination!
this G20!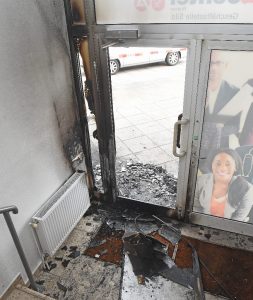 Source: https://insurrectionnewsworldwide.com/2017/04/19/bremen-germany-incendiary-attack-against-jobcenter/